McGinty Bros., Inc.'s Hawthorn Woods, Illinois Tree Care Services Move Quickly to Reduce the Spread of Damage from Emerald Ash Borer Infestations
At McGinty Bros., Inc., we'll declare war against all of the pests tearing through your Hawthorn Woods, Illinois lawn and your trees. If emerald ash borers are popping up on your trees, we'll send in reinforcements immediately. These invasive pests pose a serious threat to all ash trees in the Hawthorn Woods, IL area, and we're always ready to protect your trees.
What's the Deal with Emerald Ash Borers?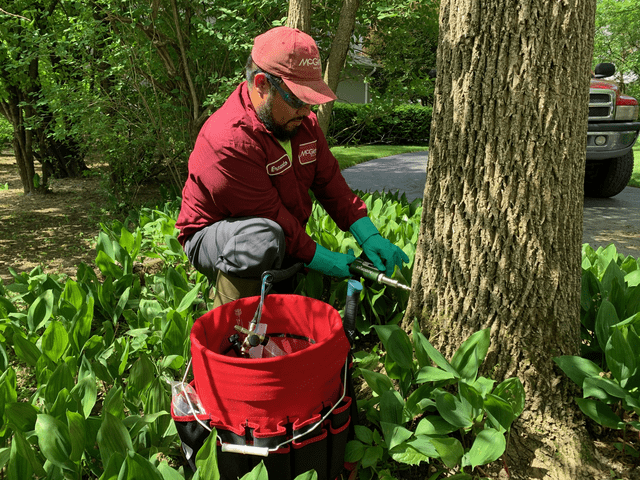 Emerald ash borers are such a scourge that Chicago and the Bureau of Forestry have created a hotline for sightings of the pest. The Chicago Tribune has basically dedicated a column and a sleuth reporter to tracking the spread of the invasive species. This isn't a dramatic overreaction. These beetles have killed over 30 million trees in North America, and they spread from ash tree to ash tree in an instant.
If there's even a single other ash tree in your neighborhood, you need a prevention plan pronto. Doing so doesn't just save your tree. It saves the tree that would have been invaded after your tree, too.

How to Protect Your Hawthorn Woods, IL Ash Trees from Emerald Ash Borers
The only way to protect your ash trees from emerald ash borers is to make sure they can't infest your trees in the first place. They can significantly damage your trees before they display obvious signs of poor health, so have a tree expert evaluate your trees as soon as possible.
Get Your Trees Inspected Regularly
Emerald ash borers have already killed millions of trees, and they continue to be one of the biggest threats facing trees in the area. If you have ash trees on your property, call an arborist or tree care expert to inspect your tree every year. If any signs of an infestation are found, we can apply pesticides to keep the pest at bay.
Be on the Lookout for Signs of Emerald Ash Borer Infestations
These beetles dig into your trees and start weakening their natural defenses. Not only do they leave your ash tree's raw wood exposed to other pests and diseases, but they also cause enough damage that the trees can't distribute water and nutrients to the top of their crown.
These signs of damage appear on infested trees:
Crown dieback and dead limbs start appearing. When the borers' eggs hatch, the larvae start eating channels out from under the bark, sapping the tree of its nutrients.
Epicormic sprouts, or water sprouts, start growing to try to reduce stress. When trees know they aren't receiving the resources they need, they try to grow new branches. Thin water sprouts mean something is starving your tree.
There are holes in the bark and more woodpecker activity. Adult borers will burrow through the bark to lay their eggs. These openings invite woodpeckers to cause even more damage as they search for the borers.
If you see any of these signs, call McGinty Bros., Inc. immediately. It can be impossible to save a tree that's been fully infested by emerald ash borers. The faster we can start treatments, the more likely it is that your tree can survive.
These signs of infestation aren't just a sign of emerald ash borers. They can indicate any number of diseases or pests. Our Hawthorn Woods, IL tree care team can get to the bottom of the damage and start the right treatment.
Protect Your Property ASAP with Professional Pest Control Treatments and Tree Removal Options
As soon as your tree displays any signs of an emerald ash borer infestation, it's time to act. If your tree has only sustained mild damage, we can apply chemical pest control treatments to kill the eggs and larvae below the bark. Our Hawthorn Woods, Illinois tree care team can also remove branches that have been devastated by the infestation. By strategically removing branches, we may be able to save the remainder of your tree and protect the other ash trees on your property.
However, if a third or more of your tree crown has died, the infestation may be too severe. Our arborist can work with you to decide if you would prefer to continue pest control efforts or cut down the tree to keep your yard safe. Once a tree has a severe emerald ash borer infestation, the branches will slowly die over the course of a few years and the trunk will follow. Branches or the whole tree can then fall over unexpectedly. That can make your backyard dangerous, especially if the ash tree is near your house or a power line.
Replace Your Ash Trees with Safer Tree Varieties
Losing a beautiful old ash tree doesn't have to ruin your landscaping. Consider planting a new tree in its place. Maple trees can give your landscaping vibrant autumnal colors and firs can add a burst of evergreen color throughout the winter. Our tree care team can recommend replacement trees that fit your soil composition and your landscaping design. We can also help get them off to a healthy head start with our fertilizer and tree care programs.

Keep All of Your Trees Safe with McGinty Bros., Inc.'s Tree Care Services
We don't want to be alarmists, no matter how alarming the emerald ash borer situation is. That's why all of our services start with an initial evaluation. We want you to get the tree care services you need instead of just scaring you with statistics. If you want to keep your trees in beautiful condition and make sure they're protected from diseases and pests, we can let you know what we recommend before you spend a dime. Our tree care services include:
Tree trimming and tree pruning
Fully insured tree removal
Stump grinding
Disease prevention and inspection
Bracing and cabling for structural support
Emerald ash borer inspections
Fertilizer, oil, and herbicide applications
Contact us today for an evaluation. The more you know about your trees, the better you can protect them from emerald ash borers. Our Hawthorn Woods, IL tree care team is also standing by if you need immediate pest control treatments or tree removal.